These megalithic tombs , burial chambers,Chun Quoit, cairns, dolmens, such as burial sites and monoliths Cornwall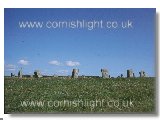 The Merry Maidens Stone Circle near Lamorna again believed to date back to the Bronze Age. Legend has it that these nine stones are maidens turned to stone for dancing on the sabbath, the two nearby stones being called the pipers.
Treryn Dinas, West Cornwall (Treen Castle) nr Porthcurno was an Iron Age fortress. Chun Castle on the North side of the peninsula was another such cliff top stronghold.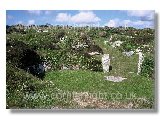 Chysauster Iron Age Village West Cornwall, near Penzance is well preserved . Carn Euny near Sancreed. Carn Euny also has a magnificent example of a 'fogou' - an underground system of passages and chambers, who's true purpose is shrouded in mystery.
The Hurlers In the far west of the County, near Minions, high on Bodmin Moor are the Hurlers. Three ancient Stone Circles dating from 2500 to 1800 BC, One circle is well preserved. Nearby is Trethevy Quiot, the remains of a Bronze Age tomb.
Rough Tor Huts Circles. Bodmin Moor About ten miles North of Minions , the last in the chain of Hills stretching across the Moor is Rough Tor. As you walk from the Car park to the summit you past the remains of numerous Broze Age Hut Circles. The remains of granite stone field boundarie are also thought to date from this period. once you have scrambled to the summit more stone circles can just be made out far below.
Castle Dore a mile from Tywardreath 225 diameter hill fort dating from between the 1st centuries BC and the 5th Century AD. Though best seen from the Air the V ditches, some still over 8 feet in height, are clearly visible when viewed from the ground. Believed to be, according to Arthurian Legend the site of the Castle of the Cornish King Mark. and thus associated also with the Legend of Tristram and Iseult. Also site of a battle in the Civil War.
Men-an-tol, West Cornwall Legend has it that parents would pass their children through the hole in the central stone in the hope that doing so would cure them of rickets and other ailments. Men an Tol is reached via a longish walk up a track, the stones are some 200 yards to the right , about half a mile up the track from the main road the B3306.
Lanyon Quoit, West Cornwall A few miles West along the B3306 the minor road from Penzance to Morvah is the particularly impressive Lanyon Quiot, with its huge 6m long granite capstone, the burial place of some prehistoric chieftain 5000 years ago.
Trethevey Quiot. One of the most impressive Neolithic dolmens in the country. Its massive capstone perched seemingly precariously over 3m 3 metres above the surrounding ground, supported on 5 equally massive granite slabs. Near Darite, signposted off the Minions to Liskeard road.