St Agnes, sheltered beaches, towering cliffs, wonderful coastal walks
the North Cornwall Coast at its best

St Agnes. A hundred years ago was a bustling thriving community, during the mining boom. So evocative names such as Polberro Mine, Wheal Kitty , West Kitty Mine, and Wheal Coates. Even today the remains of the mine engine houses, workings, and shafts, dot the cliffs. so do be careful. The area has recently been used as Poldarklocations for the recent TV series. St Agnes used to have a harbour, but its long since been washed away by the Atlantic Gales. Visit the Blue Hills and see tin streaming first hand. St Agnes lots to see and do.
Beach Guide Chapel Porth Cove and Beach. At low water the tide goes out a very long way uncovering mile after mile of golden sand backed by heather clad cliffs, stretching as far as Porthtowan. Lifeguards in season. It is a beautiful beach for a bracing and often so atmospheric out of season walk. At high water the beach is covered by the tide. Care is however needed to ensure you are not cut off by the incoming tide. Most of this stretch of Coastline is protected for the Nation by the National Trust. The Chapel Porth Beach car park fills up very early in the day in mid summer, but there is another larger car park at the top of the hill. The beach cafe's mouth-watering delights are also not to be missed, not least the 'hedgehog'.

Porthtowan with its large expense of beach at low water backed by the so white sand of the dunes.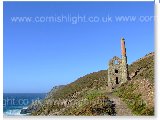 Wheal Coates nr St Agnes A short walk from Chapel Porth along a well used path to one of the most dramatically situated mine engine houses in Cornwall, perched high on the heather clad cliffs above the huge expanse (at low tide) of Chapel Porth beach. Chapel Porth is signposted from St Agnes. Park your car in the car park either at the Cove itself or in the car park half way down the approach lane The Engine House is some half a mile north of the Cove.
In the most visually stunning position, situated high on the cliffs at Chapel Porth a few miles west of the St Agnes is Wheal Coates, with a crystal clear blue sea far below. Reached by a half mile Cornish Coastpath walk along the heather and gorse clad cliffs.
For another walk and superb all round views on a clear day climb the St Agnes Beacon, a blaze of pink heather in late July, another stunning coastal walk.
Coast of Cornwall Section.

Copyright Cornish Light 1998-2023