Cornish Beaches- the South Cornwall Coast from St Mawes to Mevagissey

Good Cornwall Beach Guide
Pictures of Cornish Beaches North Cornwall | Top Ten | Hidden | Secret | West Cornwall | St Ives Beaches | Surfing in Cornwall | | Safety on the Beach | Dog Free | Dog Friendly Beaches
The South Cornish Coast from the Roseland Peninsula to Mevagissey has more than its fair share of sheltered off the beaten track beaches. Here are a few of them. Beach pictures

Porthbeor Beach. One of the Roseland Peninsula's many off the beaten track beaches. Difficult to locate, even if you think you know where it is. Reachable via a stiff half mile walk down an often steep and slippery coast path, from the road a mile south west of Bohortha. A pleasant walk is around from St Anthony Head. Backed by high cliffs with pebbles at the bottom, and a strip of sand at low water.
Towan Beach, postcode TR2 5EX. This is a real gem of a Roseland beach, backed by rolling countryside and low cliffs- a wide expanse of south facing sand at low water. Reachable via a largely level and very pleasant walk from a National Trust Car Park at Porth Farm. A mile walk north along the Coast Path is Portscatho.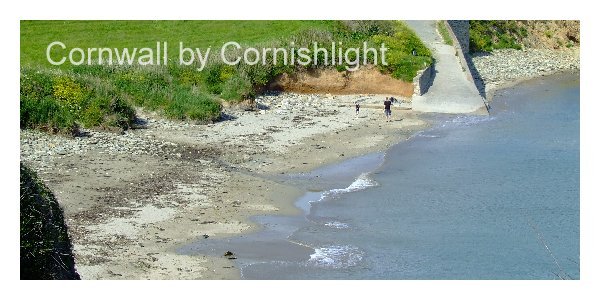 Porthcurnick Beach, postcode TR2 5HT A short walk northwards from the village of Portscatho. If driving we suggest you park in the Car Park to the north of the village, and follow the zig zag path down until you reach the beach. As you walk along the path on a clear day there are far reaching views across to Nare Head in the distance to be enjoyed. The Hidden Hut offers snacks - its summer feast nights are not to be missed, but book early. Sharing the huge tables is all part of the experience. Dog friendly beach.
Carne, postcode TR2 5PF and Pendower. Two adjoining and off the beaten track beaches, often used as a rest stop by walkers on the coast path backed by land owned by the National Trust. With fine views towards Nare Head. At low water spring tides separated only by name is this 1.5km long stretch of gently shelving silver grey sand. Reachable from either Veryan or off the A3048 St Mawes Road. Dog friendly. Disabled access.
Pendower , postcode TR2 5LW. Pendower beach is backed by marram grass covered dunes - a small stream adds to the idyllic unspoilt feel of this stretch of Cornish coast, all overlooked by the Nare Hotel with cypress trees growing in its grounds. The luxury hotel is open to non residents - booking is however essential. There is only parking for about a dozen cars on the low cliff top above the beach. Pendower is rarely crowded and is one of Cornwall's best kept secret beaches.
Best Beach in Cornwall?

Porthluney Postcode PL26 6LX
Beyond Nare Head and nestling deep in the shelter of Veryan Bay is Porthluney -one of the most beautiful beaches, we hesitate to say best beach in Cornwall. Backed by sand dunes, with a large car park, and with Caerhays Castle as a backdrop. A shallow shelving beach, in an uspoilt setting, popular with families. There is a well stocked beach shop and cafe for those ice creams and forgotten buckets and spades. Arrive early for a spot in the car park at peak season.

Hemmick, postcode PL26 6LL. Continuing along the Cornish Coast is little Hemmick Beach, best accessed from the Coast Path. Tucked in the arm of Dodman Point. Lots of rock pools for the kids to explore. Reachable down very narrow lanes, with little car parking available. We suggest you park your car at the top of the hill at Penare and follow the permissive path down- those lanes are not for the feint hearted driver, and definitely not suitable for caravans.
Vault, postcode PL26 6JS. Beyond the great bulk of the Dodman and only a mile or so to reach Gorran Haven is the half mile long expanse of seemingly silver sand and small shingle that is Vault Beach. Car parking is only available in a National Trust Car Park- do not park on the coast road. It is a mile long walk down to the north end of the beach , down over the gently sloping grassy cliffs. Very off the beaten track.
Gorran Haven, postcode PL26 6JJ. Once yet another former pilchard settlement, dating from Medieval times. The beach is south east facing and a real sun-trap, very popular both with Cornwall holiday-makers and locals alike. Sheltered also by the bulk of the granite breakwater walls. Parking limited near to the beach. Superb views across the bay from the Cornish Coast Path.
To the north of Gorran lies Great Perhaver Beach, yet another sun-trap, passing through Port Mellon one reaches Mevagissey