Fishing in Cornwall | Salmon and Trout Fishing | Coarse Fishing | Sea Angling in Cornwall
Cornwall UK Sea Angling
From sea fishing off the beach to wreck fishing for large conger or bass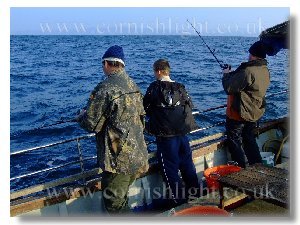 Charter fishing boat out of Boscastle


A deep sea angling trip in a Boat
Whether you fancy an hours mackerelling in the still calm of a summer evening, available at many of the resorts, including Looe, St Ives and Mevagissey even Newquay. What about a longer trip? Say 4 hours deep sea angling off the reef, or even an all day wreck fishing out of Padstow or Boscastle, both on the North Cornwall Coast, there's plenty of choice.
Some boats even supply angling equipment. Species include: pollack- caught on feather; conger and pouting on mackerel strip; if you are very lucky bass and cod in the autumn, and even flatfish such as plaice or skate on the patches of sandy ground between the reefs off the North Cornish Coast. If it is a really hot summer there may be even delicious black bream around.
Shore Fishing from the Beaches, Headlands and Cliffs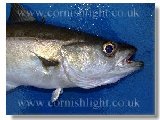 On many of the headlands the water deepens quickly and rock dwelling sea fish such as cuckoo and ballan wrasse are to be had. That is if you have the skill to prevent the initial dive once the fish takes. Small crabs are an ideal bait for wrasse. Many of the headlands of the Cornish Coast have good marks from Logan Rock Porthcurno in the far southwest to Trevose on the north coast of the County. Many of the best sea angling fishing marks involve a long walk and a stiff climb. There are some celebrated bass marks in the County.


Fishing and Sea Angling Safety
Regrettably every year anglers lives are lost by either being swept off rocks or loosing their footings. Locals as well as visitors. There is no such thing as a freak wave.