Polruan across the river from bustling Fowey
Daphne Du Maurier | Polruan | Fowey | Looe | Polperro | Mevagissey

Across the River from Fowey -Polruan less touristy but full of character and old style charm, and well worth the foot ferry trip across the River. Narrow streets clinging to the hillside leading down to the ancient waterfront and quay. Polruan has been a boat building centre for hundreds of years, even today offers boat repair, cranage and rigging facilities. You will often see a trawler on one of the Slipways being given its annual repaint.

Admire the fine views from the Old Coal Wharf. Walk from the Quay, along West St to the blockhouse guarding the east bank of the mouth of the river, or inland to Pont Pill and dramatic views of the estuary. Dating from the 14th century the Blockhouse build to protect the port from pirates and the French fleet. Along the coast from the blockhouse is Headland Gardens, offering yet more panoramic view, famous for its Monterey pines and succulents. Limited opening so do check before setting out.
Why not Order a Cornwall Tourist Brochure?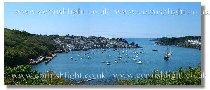 Walks the Hallwalk Fowey. Particularly memorable in Autumn and Winter when leaves no longer obscure the view, but nice at any time of year. One of the prettiest circular walks in Cornwall with wonderful views across the River to Fowey and down the Estuary Mouth 2 miles.
Or catch the foot ferry across to Fowey- across the river and a busy sheltered deep water working port offering extensive facilities for the visiting yachtsmen, popular with tourists. A busy place, with an harbour full of pleasure craft in summer.
Inland from Polruan is so picturesque Llanteglos Parish Church of St Wyllow Church where the authoress Daphne Du Maurier married the dashing Grenadier, Major Frederick Browning on 19th July 1932, the cortege sailing up Pont Creek before walking on to the Wedding service.
Those of you keen on walking walk might want to explore the Cornwall Coast from Looe to Polperro to Polruan to Fowey passing majestic headlands such as Pencarrow and difficult to reach beaches such as Lantic Bay.

Home | If you've not visited our site before please visit our Welcome page
Cornwall by Cornishlight A Travel Guide to Cornwall with Beautiful Pictures



Copyright &copy Cornish Light 1998-2016

Page updated 2012.