Polperro Cottages tumbling down to the harbour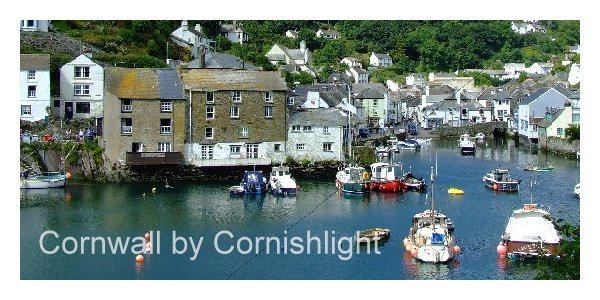 The delightful harbour- Polperro Cornwall
Rame Peninsula | Fowey | Polruan | Looe |
Coming down for a holiday? There is lots of accommodation, from bed and breakfast to holiday cottages to camping and self catering in the town or a short drive away.

Only 4 miles from Looe in South East Cornwall is Polperro, a maze of lanes, alley ways and slate hung white washed higgle-di-piggledy cottages. Which lead down to a picturesque and truly unspoilt harbour. Still a working port, where at high tide boats unload their catch, with pots and nets lying about the quays.

During the summer season you can take half hour trips a mile along the Coast towards Fowey, accompanied by a knowledgeable commentary given by the friendly boatman. Visiting yachts often moor in the sheltered bay outside the harbour.

For hundreds of years the village was entirely dependent on both fishing and, until the arrival of the revenue men in the late 1700's, smuggling. Vast shoals of pilchard would gather off the coast in late summer to be harvested by a fleet of up to 40 boats. After being gutted and sorted these would be salted down for several weeks before being packed into wooden barrels for the Mediterranean countries, particularly Italy.
The Italian Teglios Brothers took over the lease of the pilchard factory in the 1860's with output continuing well into the 20th century. The building is now the Heritage Museum and provides a fascinating insight into life in the village, before the arrival of mass tourism. Its exhibition of photographs dating from the 1860's are particularly thought provoking.
The streets are so narrow they are banned to motor vehicles. A delight to explore. Even a couple of inns dating from medieval times. In the summer, cats sunbathe on the doorsteps of the cottages, you too can on the low water beach outside the harbour. Sit outside having a meal at the Three Pilchards or the Crumplehorn Inn. Grab a crab sandwich from the Blue Peter Inn. Swans with cygnets glide around the harbour, whilst noisy herring gulls nesting on roofs feed their demanding offspring. In summer hanging baskets and planters outside the cottages add to the already chocolate box scene. Whilst in winter the smoke from countless open fires hang low in the air, giving a reminder of times past.

The Polperro Fishermens Choir, is famous throughout Cornwall, and in season gives regular open air performances. The village like nearby Looe, is an ideal winter break The Cornwall Coast to Fowey, or to Looe offers great walking with superb views back into the village as you head west or east. .