Newlyn Cornwall The Life of a Deep Sea Fishermen

Newlyn Beam Trawlers



A contemporary account of the reality of fishing by the wife of a former crewman- written in 1999.
"Fishing is a hard living and a dangerous one. Every family I know here involved in fishing has lost someone. I heard a lovely poem recited by children of local schools at the Newlyn Art Gallery last year (most of whom have family in fishing) It was very touching."
Weather permitting, Beam trawlers are out 7 days and home for 2 and a half in weather up to force 8 gales (these make up most of the fleet). A few big ones stay out 10 days and back for 2 and a half (big ones stay out in worse weather) Some boats have ice making machines others take ice on board before going to sea. The catch is mainly megrim sole, dover sole, lemon sole, conger eel, monkfish, cod, hake, and haddock.
Most trawlers have 5 crew, skipper, mate, engineer, cook and 2 deck hands. Everybody works in turn on deck and on watch 3 hours on and 3 hours off. The fish are cleaned and gutted on board after each haul (every 3 hours). They fish up to 100 miles out to sea wherever they think the fish are. They put to sea at 12 midnight or 5am.
West Cornwall the landing of the catch

On their return they work on deck for hours repairing nets (which are metal link) and preparing for the next trip before going home for a few hours then return next day at 4am to land the fish at Newlyn Market in the harbour (this takes about 4 hours). Later that day they meet at a local pub (different boats have different pubs) for the share-out and, of course, a drink or two! The whole value of the catch is divided with the the largest % going to the boat's owner. After taking out the money for diesel, food etc for the trip the rest is divided between the skipper, the mate, the engineer and the deckies (deckhands)
When the weather is bad and the boats can't go to sea, they don't earn any money. There is no pension. They don't get sick pay. When the fishing's good the pubs are busy, and when it's bad they are empty. Many of the local shops, and many other business's in West Cornwall, depend to a large extent on fishermen, both Cornish and visiting boats. They take enough food with them for each trip. Most of the megrim sole goes abroad (they eat more fish than we do). Footnote- with the introduction of EU quota's, the maximum number of days permitted at sea is limited, as are fish landings closely regulated.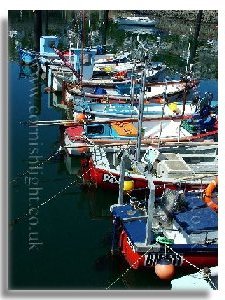 " Fishermen's wives have to be tough and resourceful. The only contact with their men when out to sea is through the Land's End Radio Station - mobile telephones don't work out there! The smaller 'Crabber' boats go out and back each day, so do the Mackerel Boats. Often there lots of cormorants to be seen sitting on the floats in Newlyn Harbour, drying their wings. As for seagulls, when you live where I do they walk into the kitchen and pinch the catfood (the cat just watches them eat it - she gave up the war against them years ago)!"
Remember Newlyn in West Cornwall is a working port. Don't trip on the gear and nets piled high. Keep away from unfenced drops, boats landing their catch, or loading stores and ice prior to going to sea. You enter the working harbour solely at your risk. More about Newlyn There are lots of places to stay in and around West Cornwall Bed and Breakfast.