The National Trust in Cornwall


Penberth Cove
Great Country Houses | Cornwall Gardens | Gardens in Cornwall | Lanhydrock | Cotehele | National Trust
The Cornish Coast and the National Trust

Cornwall 's most precious asset is its spectacular coastline, with all its contrasting landscapes from the lonely, towering cliffs of the North Coast,and the rocky headlands and coves of the South Coast. (Penberth Cove, Porth Nanven, Logan Rock and Port Quin are shown here) To the gentle inlets of the Fowey and Fal Estuaries, such as Pont Pill. Both along the Coast and Inland there are magnificent walks- The Hall Walk, overlooking Fowey for example.





It is not a matter of mere chance that so much remains wild and unspoilt. For more than 100 years the National Trust has gradually been protecting more and more of the Cornish coast, standing as a bulwark against the pressures of development for short-term gain. Today more than 40% of the county's coastline is protected by the Trust.
Achieved through the hard work and support of many people
It would be easy to take this for granted, but it has only been achieved thanks to the endeavours and financial support of many people over the years who have cared. Nearly 40 years ago the Trust's national appeal to protect the coast was launched, and it has since raised enough to buy more than 400 miles.





The New Millennium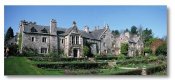 The National Trust has begun this new millennium by relaunching the Neptune Coastline Campaign with the aim of raising enough money to secure the 100 miles of highest quality coastline in England, Wales and Northern Ireland which remain at risk. Nowhere can the work of the Neptune Coastline Campaign be better appreciated than here in Cornwall.
Great Houses in the care of the National Trust
Five of Cornwall's best loved historic houses Lanhydrock | Cotehele |Anthony, Trerice, and St Michaels Mount ) , are owned, protected and opened to the public by the National Trust. Other property in their care include carefully preserved examples of Cornwall's industrial past, such as mine engine houses.




Cornish Gardens in the care of the National Trust
Six of Cornwall's finest gardens are in the care of the National Trust - Antony, Lanhydrock, Cotehele, Trelissick, Glendurgan and Trengwainton – covering between them a huge variety of plants, styles, features and moods. In addition to the loveliness of the gardens, they all have tea rooms or restaurants and shops to enhance your visit, and there are renowned art and craft galleries at Trelissick and Cotehele.
Why not help the National Trust ?


Just £40 buys one foot of coastline and protects it for ever. Will you help us? Please contact: The National Trust, Cornwall Regional Office, Lanhydrock, Bodmin, Cornwall PL30 4DE; tel: (01208) 74281, or visit the National Trust web site. Much has been done, but there still much to do.


For opening details of Trust Houses and Gardens,
telephone the Cornwall Regional Office (01208) 74281
or join the National Trust
Please check Opening Days and Times before Setting Out

Copyright &copy Cornish Light1998-2023
Most text Courtesy National Trust
Revised: 2010