Lands End, Cornwall

Lands End The First and Last House
Lands End Cornwall
Lands End Cornwall the most westerly point in mainland England. The most visited outdoor tourist attraction in the County. Lots for all the family to see and do. Lands End has rugged wave lashed cliffs, stunning views, the Longships Lighthouse and Wolf Rock off shore, the Isles of Scilly in the distance. 2500 miles away across the Atlantic Ocean is America. Lands End.

Have your photograph taken at the famous signpost. Visit the First and Last House. Go into the Exhibitions. The Relentless Sea. The Hall of Fame. See the animals at the Land of Greeb Farm. Craft and gifts shops too. Pop into the State House for a meal. Watch a spectacular sunset over the sea. The site's owners keen to conserve its natural beauty encourage visitors to keep to the paths, and now every spring the cliffs are again a blaze of wildflowers, particularly thrift, untrampled by human feet.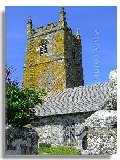 Sennen Cove, and The Minack Theatre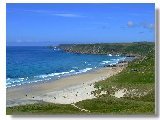 Around and about West Cornwall Stop of at Sennen Cove on the way. Once an important Seining Outpost. Visit the Round House Gallery, built on top of the Old Capstan. Once powered by mules to pull the boats up the granite slipway, now an electric winch is used. Whitesands Bay is a Blue Flag Beach, and popular with surfers.
A mile or so up the coast is the unspoilt Cot Valley and Porth Nanven Rarely visited but offering the chance to witness some of the best sunsets in Cornwall, as the sun an orange ball sets behind the Brisons, a group of rocks offshore. The Beach is littered with egg shaped granite boulders, the remains of a raised beach dating back to the last Ice Age 100,000 years ago. In spring the Cot Valley is a blaze of white and bluebells, the cliffs a display of pink thrift. In the evening pop over to the Open Air Minack Theatre at Porthcurno, with its secluded south facing beach, and see the show.


Minack Theatre
The Minack Theatre's backdrop is a often startling blue sea, and cliffs, that on a clear day, stretches all the way to the Lizard. You can now book tickets more than a week in advance. Only one or two shows a season are cancelled because of rain..


The Cornish Coast Great for Walking

Visit the Levant Beam Engine or Geevor Mine Heritage Centre. Fancy a walk away from the crowds? Follow the Cornwall Coastal Footpath West to Porthcurno and to the Minack Theatre.
On to Logan's Rock and Penberth ,
an unspoilt fishing cove, where men still put to sea in open boats. Or further west all the way to Newlyn and Mousehole. Still feeling energetic follow the rugged North Coast, past hundreds of years of mining heritage the 16 miles to St Ives. See our Walking Guide for other nice walks.

Warning the cliffs are dangerous and an important haven for nature. Keep back from the edge and keep to marked paths.


The Lizard | Minack Theatre | Porthcurno | Penzance | Newlyn | St Michaels Mount | Lands End | Cape Cornwall | Mousehole | Scilly | Sennen Cove | Cape Cornwall | Porthcurno | Minack Theatre | Penberth Cove | St Ives
Copyright &copy Cornish Light 1998-2023
Page updated Feb. 2018