Cornwall Coast Path
Penberth- an unspoilt Cornish Cove in the far west of Cornwall England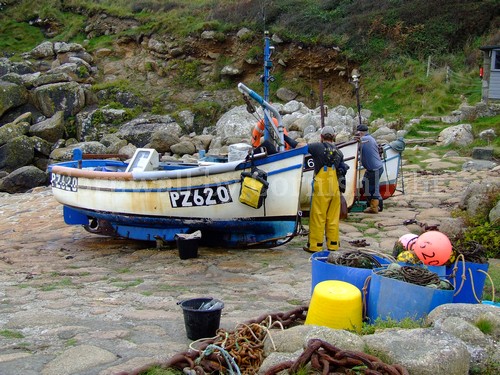 Coast Path- Penberth Cove-boats on the Slipway.

(NT) Penberth Cove lies at the end of a sheltered wooded valley on the Lands End Peninsula, in West Cornwall. The inhabitants of this unspoilt cove, composed only of a few fishermen's cottages, and a fish cellar, still put to sea in open boats, much like their grandfathers and great grandfathers did a hundred years ago. An electric winch is now used to pull the boats back up the granite slipway rather than a men powered windlass - one of the few signs of the twentieth century. Quiet and unspoilt maybe only a passing Cornwall Coast Path walker disturbing the peace.
In summer when the fish are plentiful, and the seas off Cornwall calm, the men put to sea at dawn, working their pots for lobsters, crawfish, (crabs), line caught sea bass and 'feathering' for mackerel. They flick each fish into the bottom of the boat, to avoid getting impaled on the string of up to 30 hooks.
In winter the fish are scarse- the boats are dragged to the safety of high ground before the gales lash in, altogether a bleak time, not quiet so romantic. In years gone by the men would make pots from willow, grow daffodils and Cornish new potatoes for the spring market. The pots are now plastic, and the very early potatoes from Egypt.
Penberth Cove was in 1957 transferred to the National Trust through the National Heritage Fund, in memory of those who died in the Second World War. One of many such unspoilt places in Cornwall.
Walks in West Cornwall. The Cove makes a nice stopping off point on a Circular walk as far as Porthcurno and the Minack Theatre from nearby Treen village, or longer walks along the Cornish Coastal Path as far as Lands End in the West or back to Mousehole in the East. Down here for a spring holiday?. You may be lucky and find the coast a blaze of bluebells.
Click on images for larger view &copy Cornishlight
Newlyn | Lands End | Isles of Scilly | Newquay | St Ives | St Michaels Mount | Mousehole | Penberth Cove | Porthcurno | Cape Cornwall | Newlyn
1998-2023 &copy Copyright Cornish Light

Page updated 2021