Fishing in Cornwall | Salmon and Trout Fishing | Coarse Fishing | Sea Angling in Cornwall
Cornwall UK Sea Angling
From sea fishing off the beach to wreck fishing for large conger or bass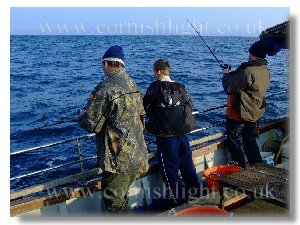 Charter fishing boat out of Boscastle


A deep sea angling trip in a Boat
Whether you fancy an hours mackerelling in the still calm of a summer evening, available at many of the resorts, including Looe, St Ives and Mevagissey even Newquay. What about a longer trip? Say 4 hours deep sea angling off the reef, or even an all day wreck fishing out of Padstow or Boscastle, both on the North Cornwall Coast, there's plenty of choice.
Some boats even supply angling equipment. Species include: pollack- caught on feather; conger and pouting on mackerel strip; if you are very lucky bass and cod in the autumn, and even flatfish such as plaice or skate on the patches of sandy ground between the reefs off the North Cornish Coast. If its a really hot summer there may be even delicious black bream around.
Shore Fishing from the Beaches, Headlands and Cliffs
On many of the headlands the water deepens quickly and rock dwelling sea fish such as cuckoo and ballan wrasse are to be had. That is if you have the skill to prevent the initial dive once the fish takes. Small crabs are an ideal bait for wrasse. Many of the headlands of the Cornish Coast have good marks from Logan Rock Porthcurno in the far southwest to Trevose on the north coast of the County. Many of the best sea angling fishing marks involve a long walk and a stiff climb. There are some celebrated bass marks in the County.


Fishing and Sea Angling Safety
Regrettably every year anglers lives are lost by either being swept off rocks or loosing their footings. Locals as well as visitors. There is no such thing as a freak wave.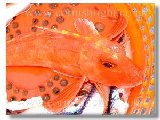 Here are some do's and don'ts.
Do not fish alone. Tell someone where you are going.
Do check the weather forecast and the tides before setting out.
Do ascertain the local conditions.
If you have any doubt don't venture down to that mark.
Wear high visibility clothing and stout shoes or wellingtons.
Take waterproofs, a whistle and a torch.
Do exercise caution after all its only commonsense.
Its your one and only life!
Sea Fishing in The Estuaries and Harbours and on the Piers
Though many anglers only retreat to the shelter of the estuaries and harbours when its too rough to fish the open sea, good fishing is still to be had, especially on an incoming tide on a winters night. For example in Winter both the Looe and Fowey Rivers hold very large flounder. Out of the main tourist season fishing is sometimes permitted from the Banjo Pier at Looe. If the gates across the Pier Entrance are shut you are not allowed to fish from the Pier. Equally regardless if they are open or not and the weather conditions are bad you should not attempt to fish. Sometimes pollack venture well up the Looe River looking for scraps under the fishmarket, providing great sport on light float tackle on cold winter nights.


A string of mackerel
out of Boscastle


To Contact K Cave of Tel +44 (0)1288 353565 or book at The Rock Shop Boscastle Tel +44 (0)1840 250527

For details of fishing trips from 2 to 8 hours mackerelling, reef, or wrecking contact Atlantic Fishing Tackle, branches at Helston (tel. 01326 561640) or Porthleven (tel. 01326 561885) . They stock sea and coarse and fly tackle, maggots, and tickets too.

Please mention Cornishlight when phoning

Fishing in Cornwall | Salmon and Trout Fishing | Coarse Fishing | Sea Angling in Cornwall | Birdlife in Cornwall


Here are some Nice Places to Stay | Holiday and Touring Parks | Hotels and Country Houses
Camping | Self Catering and Holiday Cottages | Bed and Breakfast and Guesthouses | Activity Breaks

Home | Towns and Villages | Places to go | Things to do | Places to stay Cornwall | Customs and Culture | Cornish Coast | Cornish Life | Walking | Beach Guide | Cornwall Tourist Brochures

Home | If you've not visited our site before please visit ourWelcome page
Cornwall by Cornishlight A Travel Guide with Beautiful Pictures



Copyright Cornish Light 1998-2016
Page updated 2012

mackeral